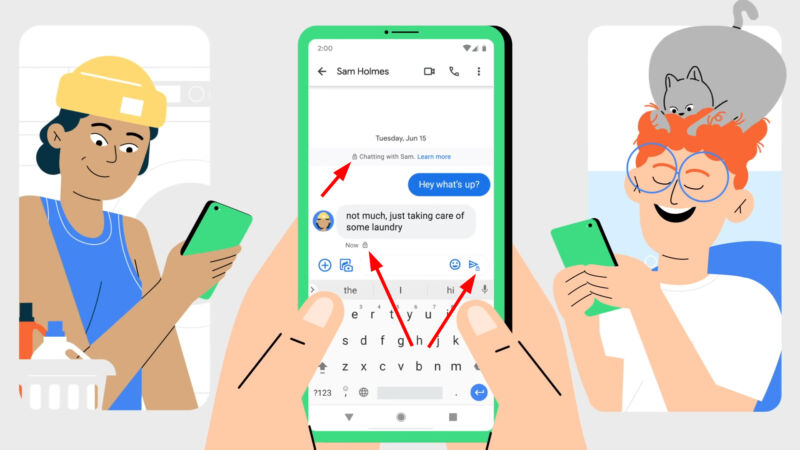 Google has announced that end-to-end encryption is rolling out to users of Google Messages, Android's default SMS and RCS app. The feature has been in testing for months, and now it's coming to everyone.
Encryption in Google Messages works only if both users are on the service. Both users must also be in a 1:1 chat (no group chats allowed), and they both must have RCS turned on. RCS was supposed to be a replacement for SMS—an on-by-default, carrier-driven text messaging standard. RCS was cooked up in 2008, and it adds 2008-level features to carrier messaging, like user presence, typing status, read receipts, and location sharing.
Text messaging used to be a cash cow for carriers, but with the advent of unlimited texting and the commoditization of carrier messaging, there's no clear revenue motivation for carriers to release RCS. The result is that the RCS rollout has amounted to nothing but false promises and delays. The carriers nixed a joint venture called the "Cross-Carrier Messaging Initiative" in April, pretty much killing any hopes that RCS will ever hit SMS-like ubiquity. Apple executives have also indicated internally that they view easy messaging with Android as a threat to iOS ecosystem lock-in, so it would take a significant change of heart for Apple to support RCS.
Read 3 remaining paragraphs | Comments
Source: Google enables end-to-end encryption for Android's default SMS/RCS app